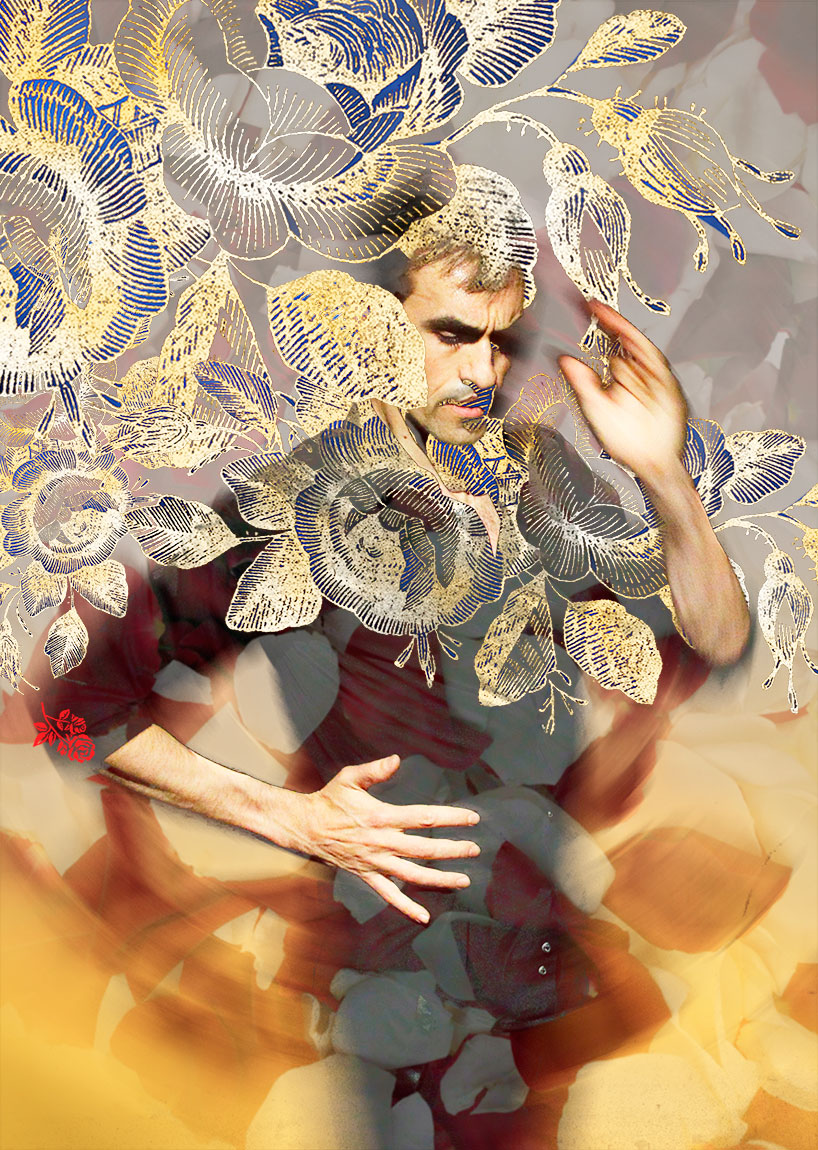 Tomas Arroquero has spent over 20 years training and working as a dancer in Spain, the source of Flamenco.
From 1993 he trained for 7-years in Madrid at El Centro de Arte Flamenco y Danza Española Amor de Dios. While studying with founding members Maria Magdalena, El Ciro and Paco Romero, Tomas worked in theatre and tablao settings across Spain and Europe.
Tomas collaborated with numerous companies including Clara Ramona and Isabel Olivide in Madrid, Mi Flamenco in the UK and Gisa Michelón in Germany. Many productions engaged with a conglomerate of Madrid and Jerez-based artists.
Performances highlights include a season at the prestigious tablao Casa Patas, Madrid; Royal Concert Hall, Dublin; Gasteig Cultural Centre, Munich; Hackney Empire, Laban Centre and sharing the stage with Tomatito at the infamous Royal Albert Hall, London.
These performances opened the way for Tomas's explorations with Flamenco. In 2001 he moved to Jerez de la Frontera (Cadiz), and began refining his practice while living amongst Andalusian culture.
Tomas studied with local artists Ana Maria Lopez and Maria Bermudez, working at Peña El Lagá del Tio Parrilla and Dama Juana in Jerez. He performed for 6-years as a soloist with the London-based company Flamenco Express.
In 2007 he moved to Seville training with Isabel Bayón and Alejandro Granados to name a few.
Tomas teaches Flamenco internationally and continues to have a presence in the UK, Taiwan and Hong Kong. He currently teaches in Melbourne and maintains partnerships with dance schools in Australia, including The Australian Ballet School.
He has made several guest appearances with Diana Reyes Flamenco in Sydney and Areti Flamenco in Adelaide.
Tomas is passionate about making innovative work in collaborative contexts.
He is the producer and director of Sonidos Flamencos which brings together a number of Melbourne based dancers and musicians. Performances include The Robbie Burns Hotel, Collingwood; 45 Downstairs, Flinders Lane and regional tours across Victoria.
Tomas' recent postgraduate studies shift Flamenco into the broader context of contemporary dance making.
Perceiving dance through a kinaesthetic lens has opened up rich territory for him to stretch the boundaries of the form and renegotiate Flamenco's defining characteristics.
New works include Pasodoble (2011), Calle Nueva, Sideline (2012), Fragmentos (2015), Water Bodies (2018) and Salón Flamenco (2019).
Career highlights include:
Dance accompanist with the world-renowned flamenco guitarist José Antonio Rodríguez and Trio at the International Guitar Festival, Adelaide Festival Centre (2014)

Danza Viva's production of Capriccio Flamenco (2012)

Flamenco Fire (2008/2009)

Compañeros presented by Gisa Michelón (Germany 2010)

Unearthed produced by Mi Flamenco (UK 2007/2010)

Herencia Flamenca (US 2007)

Esencia Flamenca (Taiwan 2006)

Díemlo Tú Flamenco directed by Isabel Olavide (Spain 2003/2006)

Dance soloist with the company Flamenco Express (UK 2001 – 2006)

Tierra, Agua, Fuego y Aire, produced by the company Alegria (Spain & UK 2000/2003)
Postgraduate research:
Master of Fine Art (Dance 2014 – 2016), Graduate Research at the Faculty of VCA and MCM, University of Melbourne

Diploma in Creative Industries (2013) at Victoria University

Diploma in Performance Creation (Choreography 2012) at the VCA, University of Melbourne